This guide gives an overview of OSHA, CGA and NFPA guidelines for the safe storage and handling of compressed gas cylinder equipment.
Meet OSHA Requirements for Storage & Handling
Whether your company has just received a visit from OSHA or you're setting up a new work environment, it's important to understand how to safely store and handle gas cylinders.
The following guide will point out key gas cylinder safety standards and guidelines, as well as illustrate the need for those guidelines. But first some cylinder basics:
---
Standard Measurements & Capacity
The most commonly used gas cylinders come in these measurements:
Height: 4-5 feet tall
Weight: 75-80 pounds (empty), up to 270 pounds (filled)
Pressure: 2,200 pounds per square inch (psi)
While this may not sound particularly heavy, serious injury can occur if these cumbersome objects are moved incorrectly or fall on an employee.
Types of Gas Cylinder Hazards
There are two primary types of hazards associated with the use, storage and handling of compressed gas cylinders:
The chemical hazard associated with the cylinder contents (corrosive, toxic, flammable, etc)
The physical hazard represented by the presence of a heavy, high pressure vessel (explosion, fire, falling cylinder, etc)
Regulations & Guidelines
Regulations established by government agencies, trade associations and the local authority having jurisdiction are put into place to minimize the risks associated with gas cylinders.
A few of the most important organizations include:
You can read excerpts from the guidelines of those organizations that pertain to gas cylinders here:
View cylinder safety guidelines
---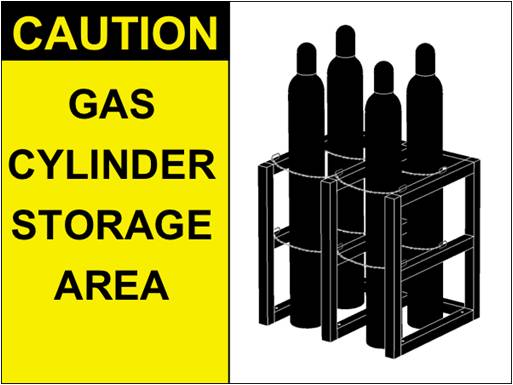 Storage Requirements
OSHA 1910.101(b), NFPA 1, and the CGA Pamphlet P1-1965 each outline requirements for storage and handling of compressed gases.
Important storage requirements include:
Limit access to storage area to authorized personnel
Keep cylinders vertical
Secure with straps or chains connected to a wall bracket or other fixed surface, or by use of a cylinder stand to prevent falling
Restraints must be fastened on the upper half of the cylinder above the center of gravity
Full cylinders should be stored separate from empty cylinders
Storage area needs to be ventilated, clean and dry
Do not let indoor temperature exceed 100°F (38°C)
Safety caps on cylinders
---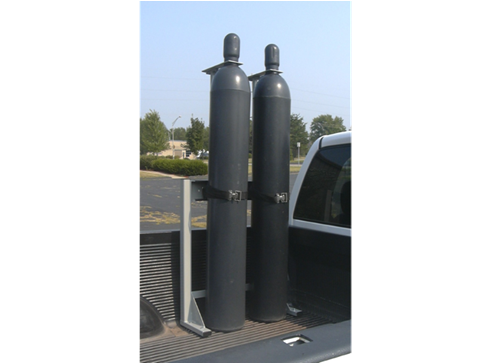 Transportation Requirements
Use a hand truck or cart designed to move cylinders
Do not handle more than one cylinder at a time unless a cart that is designed for such purpose is utilized
Keep cylinder vertical, except for short periods of time while cylinders are being hoisted or carried
OSHA regulations need to be followed on the job site, which can vary depending on site location.
Over the road transport is regulated by the Department of Transportation (DOT) where the movement is taking place. Check with the DOT in your State for specific requirements.
---
Separate Oxygen & Fuel Cylinders
OSHA requires that oxygen and fuel cylinders be separated by a noncombustible barrier.
This is to minimize the risk of hazards such as fire and explosion.
According to OSHA 1926.35(a)(10):

"Oxygen cylinders in storage shall be separated from fuel-gas cylinders or combustible materials (especially oil or grease), a minimum distance of 20 feet or by a noncombustible barrier at least 5 feet tall having a fire-resistant rating of at least one-half hour."
The risk of fire is demonstrated in this video.
You can read more about this topic in our expanded article about firewall barriers.
Need a noncombustible barrier for your workplace? USA Safety Firewall Barriers have an OSHA-compliant fire-resistant rating of one hour (exceeds 1/2 hour requirement).
---
Potential Hazards of Gas Cylinders
Here are examples of significant hazards that can result from improper use of gas cylinders:
Explosion
Fire
Oxygen displacement
Death
Back injury
Burns
Broken bones
Eye injury
---
Demonstration of Safety Risk
This video clip from the show Mythbusters, shows the an experiment that demonstrates the destructive potential of a ruptured gas tank.
View on YouTube
---
More Information
The Authority Having Jurisdiction (AHJ) is the general term used to describe the person or group that approves of equipment, installation or procedure for public safety.

The AHJ could fall under any of these organizations:
---
The information on this page is intended to provide a broad overview of the requirements for working with, transporting and storing gas cylinders. This information should not be taken as legal advice. Every situation is unique and it is best to consult with your local authority having jurisdiction to be sure all safety requirements are being followed. USA Safety Solutions, Inc. assumes no liability for the use of this information.